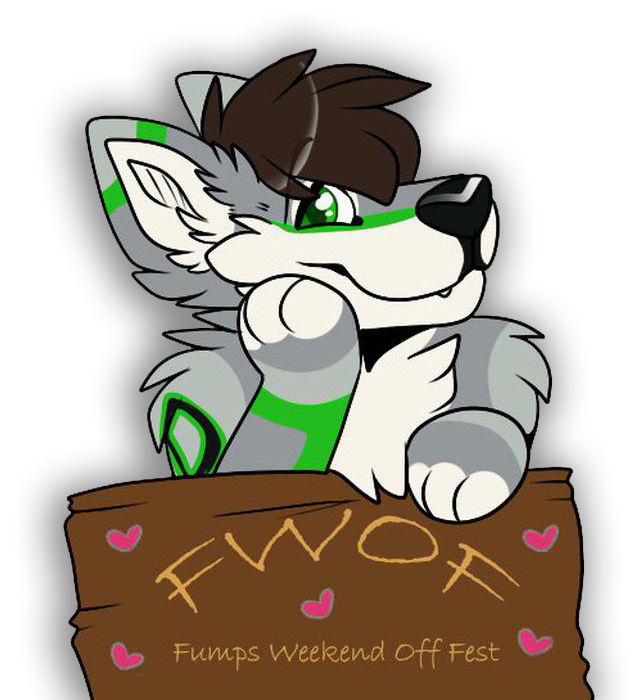 IMPORTANT: THE EVENT SCREM! SHOUT! SING! IS CANCELLED DUE TO MEDICAL REASONS OF THE ORGINISER. THOSE WO PAYED WILL RECEIVE A FULL REFUND. Welcome to FWOF
FWOF or Fumps Weekend Off Fest is a series of events for furries.
The events are hosted by Fumps The Folf and his team.
It all started in 2018 with some fun private meetups with friends. Soon, Fumps and some friends realized that more people wanted to join these events. That's why Fumps made the decision to make the events public accessible for everyone under the name of FWOF.
FWOF is a non-profit series of events.
Upcoming events
Before registering to an event, please read the rules of FWOF to prevent mistakes or inconveniences.
Good rules make good friends.
Badges
Most FWOF events have their own mascotte!
You get a badge / pin at the beginning of the event. This is a collectable!

The names are based on a funny thing during the event.
Staff
These are the volunteers of FWOF.
Please respect them during events and listen if they say something!
They are the ones making this possible!
Fumps The Folf
Founder & Head of staff
WOP WOP!

Creative mind behind the events! Fulltime sushi eater, parttime whale!
Bendji
IT & Crew
*keyboard noises intensifies*
Reno Woods
Crew
Running in the 90's!

Rules
You have to be 18+ at the start of the FWOF event. In case of doubt, you can be asked to show your license card.
Your registration can be rejected by the staff, due to unacceptable behavior in the past or not following the rules (of a previous event). Denial of registration may also arise from member complaints or bans on other events within BE/NE/LUX.
Events can have specific rules, which are mentioned in the description of the event on the website. Those rules have to be followed too.

Only listen to staffmembers which are mentioned on the website. Only decisions and answers from staff should be followed.

Do not ask important event-related questions to other attendees to prevent misunderstanding.

Drugs are not allowed. Smoking is allowed at public smoking areas or when mentioned by staffmembers.

Alcohol is allowed, but drink wisely. Inappropriate behaviour "due to alcohol or drugs" is not an excuse to not get a ban or get kicked from an event.

Fursuiting is not allowed, except when mentioned in the description of the event on the website or mentioned by staffmembers during the event.

Sexual harassment is not allowed.

Breaking things during an event is your responsibility and you are the one fixing or paying for it.

You are an adult, so we expect you to behave like an adult in public places.

Personal arguments or drama is your problem. We are not a point of contact for personal disputes.

You need to pay within 2 weeks after registering and at least 2 weeks before the start of the event. Special payment request can be asked by sending a mail to fwof.official@gmail.com or contacting @Fumps.
Due to covid we will ask your Covid-Safe pass in the beginning of an event. When the event takes place at an external location, covid measures of that location must be followed.
Are you a gamer? Join our game servers!
Minecraft server
The Official FWOF survival server!
Status:

offline

(1.18.1)
IP: 213.119.25.150
Factorio server
play.fwof.be
Version: 0.18.22
Pass: VFC2020